Jacqueline Roberts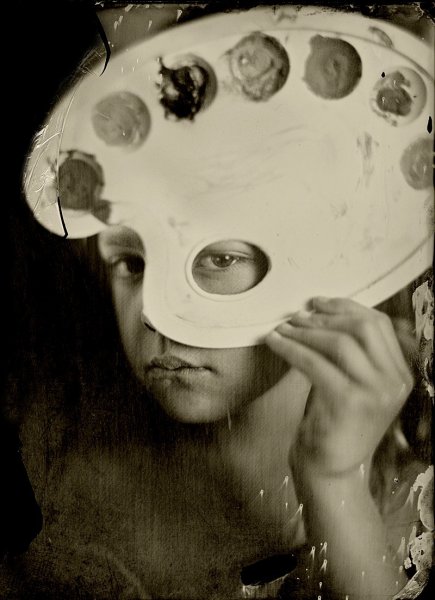 'Scherzo di Follia'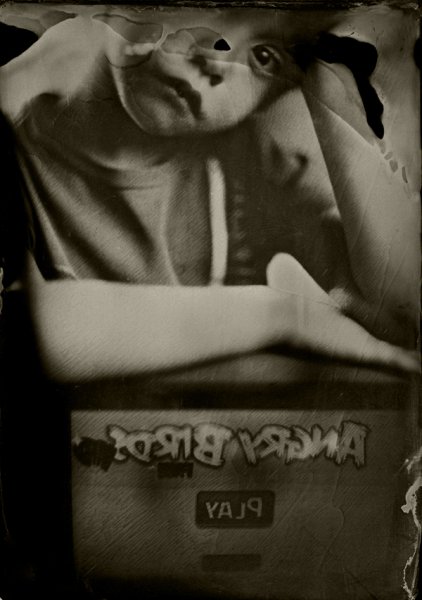 'Angry Birds'
'I always liked photography and toyed with cameras in my teens, but it was only about 4 years ago when I really started to take photographs on a more regular basis. I'm a self-taught photographer and so far it has been a great adventure. "Scherzo di Follia" is an ambrotype made on black glass. The plate is 7×5″. "Scherzo di Follia" is a tribute to Pierre Louis Pierson, a French photographer from the late 19th century. I have always been fascinated by his photograph, so intriguing and enigmatic yet so playful. I wanted to recreate the mood. "Scherzo… " is part of my Collodion series "Come & Play"'. We choose Jacqueline's portrait "Scherzo di Follia" as we felt it held a lot of emotion and character creating an ever growing interest into the subject. The photograph has been cleverly thought out, by placing a paint pallet over her subjects face revealing only certain features, such as the eye which is skillfully highlighted in the hole of the pallet. Since this detailed photograph was developed on a plate, it creates a delicate and very distinct quality to the portrait, which cannot be replicated nor imitated by any other medium.
Many thanks again to Jacqueline for entering her beautiful portraits and congratulations.
1. What drew you to photography?
Serendipity …
2. When did you begin making wet plates and how did you make it your profession?
I began making wet plates this year really, in January. I did a workshop with Quinn Jacobson, one of the best Collodion artists, last April in Paris but it took me about a year to get the chemicals, equipment and all paraphernalia. If anything, Wet Plate Collodion process has taught me patience and perseverance. I remember watching a BBC documentary on the history of photography, "The Genius of Photography" and being mesmerized by the beauty of daguerrotype images. Making daguerrotypes would have been far too ambitious to start with but from that moment on, I knew I had to go back to the very roots of photography. I did some research and found myself equally fascinated by ambrotypes, it was clear to me that this was what I wanted to do, albeit as an amateur for the time being. Collodion has a unique aesthetic and although it is a difficult process, in today's digital era it is a pure indulgence to hold in your hands a beautiful crafted object. Plus, I just love the ethereal and timeless quality of the images it produces…
3. What makes photography important to you?
For me, photography is that very fine nexus between the ephemeral and the perennial.
To see more of Jacqueline's work click on the link below: