Paul Hardy Carter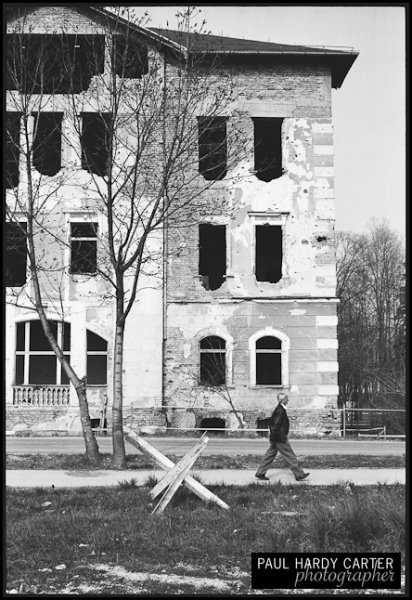 "Sarajevo. 2004″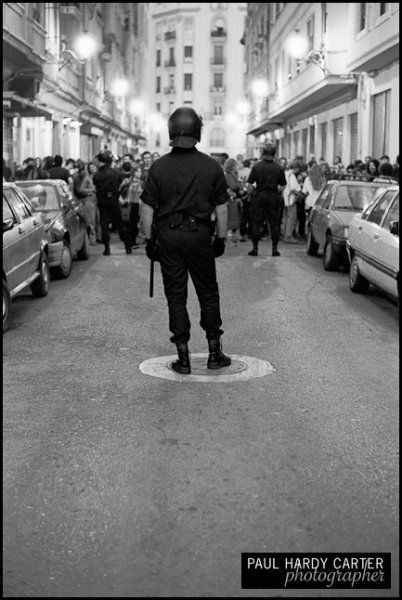 "Anti-government demonstration. Valencia, Spain. 2003″
After studying photography at Portsmouth in the early 1980s and holding some successful exhibitions, Paul Hardy Carter turned his back on photography and didn't pick up a camera again until 2002, when he was 38 years old. He quickly established a technique that suited his vision and set about capturing the world on 35mm black and white film, living and working in many European countries over the next eight years. Practicing classic street photography, using one lens of a fixed focal length and working in natural light, his pictures are never cropped. Paul has never been tempted by digital photography as it rose to equal, and then surpass, film in absolute technical quality and convenience. He continues with a technique that he is now so familiar with that he can put it out of his mind, forget about it, and concentrate on what matters to him most – the composition and timing of the picture. The resulting body of work, from celebrations of joyous Spanish fiestas to emotionally powerful depictions of political prisons, has been praised by critics and the photographic public as bringing a fresh perspective to a traditional medium.
"Paul Hardy Carter makes his projects sound simple and his methods straightforward, his approach is very deep and human and this simplicity is the strength of his language." – Jérôme Muffat-Méridol
Make sure you take a look at the interview we had with Paul:
1.  When did you first use an analog camera? 
About 1970. My parents bought me kodak 110 camera – I haven't seen one of those for ages! It produced miniature negatives. The film came loaded in a little black plastic cassette, you just popped it in the back of the camera and started taking pictures. No focusing or exposure controls. I've still got some prints from it somewhere around here.
2. What is your favourite film and camera to use?
These days I have two Leicas, an M6 and an M7, and two 50mm lenses. I usually use Tri-X, in fact about 98% of my work is shot on Tri-X. I sometimes use Pan-F in particularly bright conditions, and occasionally TMZ at night. It's amazing what you shoot with an f1.4 lens and TMZ pushed to 6400 or 12800, almost complete darkness.
3. What made you want to choose photography as a career?
I'd tried pretty much everything else!
4. What inspired you to take the photographs you take?
The usual suspects, I guess. There can't be many people who haven't been inspired by Cartier-Bresson. Also the Hungarians from the 1920s - Brassaï, Kertész, Munkácsi. I had the enormous pleasure of seeing their work as part of the Royal Academy show in the summer. Fabulous stuff, especially Munkácsi. Man Ray too is a great inspiration. I do think he's photography's Mozart. He took the medium and moved it in totally unexpected directions. A genuinely original creative genius. I don't like talking about inspiration in the past tense though, it has to be ongoing thing. I'm currently getting a real kick out of some young Romanian photographers work. But real inspiration doesn't come from photography – it comes from life.
5. Why photography and why film?
Wow – the big question!
Can I cheat here and point you to something I wrote a couple of years ago, which answers this? I call it my Manifesto, you can read it at paulhardycarter.com/manifesto
A big thank you once again Carter for entering his photographs.
To find out more about Paul Hardy Carter and to see more of his fantastic work please click his name Paul Hardy Carter.