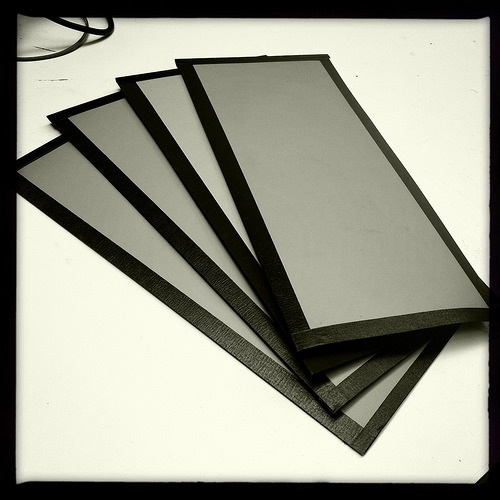 Noticing the successful efforts of both Lomography and The Impossible Project, inventor Bob Crowley has been inspired to take his own dive into the niche market of the re-creation of discontinued analog films. He and his team at New55 FILM have created a Kickstarter in hopes of funding the start up of 4×5 instant film production.

After hearing The Impossible Project wasn't going to work on 4×5, Crowley figured he'd look into making it a reality himself. With his background as an inventor, he got to work, applying that knowledge towards making it happen.
Starting off with the basics, Crowley researched patents and papers on the creation of instant film, gathered up as many resources as he could, and contacted as many knowledgeable people in the field as he could, all in an effort to become as well-informed as possible before taking the next step.
Then came the more difficult aspect: gathering the pieces of the puzzle to create the film — industrial resources, vendors of the almost-extinct materials needed, and everything else. And while he and his team at New55 FILM have done much of the research needed to gather these components, it's not yet complete, as the funding from the campaign would go towards supplying the needed capital to make these investments.
The manufacturing process will the final step towards re-creating this instant format. And although it's a daunting task, New55 FILM is ready to take it head on with a solid plan that's meticulously outlined over on the Kickstarter page.
The rewards start at the $25 pledge range, with a $75 pledge securing you a "First Edition" box consisting of five 4×5 sheets, assuming the Kickstarter gets successfully funded.
Eventually, their ambitions are to get the market price per sheet down to $6. But, that depends completely on whether or not their campaign is successful, as well as the need for economics of scale to help bring the cost of semi-mass-production down.
As of writing this, the New55 FILM Kickstarter campaign has raised just over $45k in funding, leaving $350k to go. It's certainly one of the more ambitious Kickstarter projects we've seen, but as The Impossible Project went to prove with their endeavors, it's not so impossible.
To read in more detail the project, from conception to where it's currently at, you can head on over to New55 FILM's blog. If you'd like to read more specifically about the Kickstarter or make your pledge, head on over to the Kickstarter campaign.